Click here for more designs on Page 2





TO ORDER click thumbnail photo.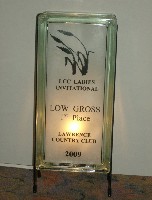 Golf Trophy
(Custom Orders Welcome for Trophies, Corporate Gifts, Sales Promo)

Glowblock® glass block lamps are handcrafted from recycled materials and glass blocks in Kansas by eco-artist Suzanne Perry. Her company is Waste-Nots.
Waste-Nots
535 Indiana St.
Lawrence, Ks 66044


Tel: 785 766-0476

Click here for wholesale information, or contact us by COPYING AND PASTING wastenots@hotmail.com into the "to:" field of an e-mail.
All prices include postage.
Product dimensions:
Tall: 11" x 5" x 3.5"
Short: 6" x 5" x 3.5"








Glowblock® is a registered trademark. All rights reserved.